Clinical Interpretation Services
Support from sample to report
Our in-house team of UK trained and Health and Care Professions Council (HCPC) registered Clinical Scientists offers best-in-class clinical interpretation services for germline disorders to support your organisation all the way from sequencing to report. If required, we can also advise on laboratory set-up as well as assay design and validation.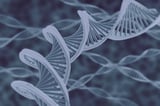 Sequencing (optional)
We facilitate access to clinical grade sequencing through our accredited and certified partners should this be required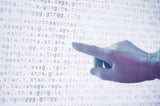 Data
analysis
Submit FASTQ files for variant calling or submit BAM/VCF output files derived from your own analysis pipelines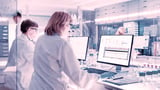 Variant interpretation
Leverage our services for variant interpretation. Variants are classified following ACMG guidelines and annotated with supporting references and evidence when relevant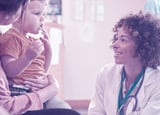 Report
creation
Receive a customised report that can be reviewed independently or presented directly to the ordering clinician
Quality is paramount
We enable the delivery of high-quality and robust end-to-end services by ensuring that our suppliers and partners are fully compliant, independently approved, regularly reviewed and audited through our Quality Management Team.
First-class service for best patient outcome
Congenica's Clinical Team is determined in delivering a first-class service, adhering to nationally recognised Best Practice Guidelines and Good Scientific Practice. Services include extensive analysis of clinical and genetic data to deliver comprehensive and timely clinical reports, including detailed interpretation of key findings. Our approach is collaborative, and we work with you in a multidisciplinary approach to ensure best patient outcome.
Experience you can rely on
Our in-house team of registered Clinical Scientists hold decades of experience in variant interpretation gained from leading genetic laboratories in NHS healthcare settings.
Gold-standard interpretation
Our Clinical Interpretation Service is independently assessed by Genomics Quality Assessment (GenQA) each year to ensure we can provide the highest quality standards in genomic variant analysis.
Rapid turn-around times
Our streamlined service provides transparent, comprehensive analysis and delivers clinical grade reports from sequenced data in as little as one week or from DNA samples in only four weeks.
Cogenica's clinical team is a unique differentiator. As practicing genomic interpretation scientists they understand the clinical questions we are trying to address and work with us to develop flexible solutions. Their knowledge and experience has been key in making our variant interpretation services a success.
Dr Gholson Lyon, M.D., Ph.D. Principal Investigator and Clinician, Institute for Basic Research in Developmental Disabilities, New York